Trish Harper
MSW, RSW
Trish has worked in many diverse mental health settings with families, youth, and children, providing direct practice for over 20 years. She has a Master of Social Work degree as well as a Bachelor's degree in Psychology, and has completed professional training in Trauma Resolution Therapy.
With a specialization in child and youth development, Trish has written training materials for the Crisis & Trauma Resource Institute's workshops such as "Resilience in Children" and "Understanding Mental Health in Children and Youth." She is also a contributing author of our Counselling Insights book. Trish deeply respects the power of empathy and dialogue in facilitating wellness for people of all ages. In her role as a Suicide Prevention Specialist, she has come to see that all communities have the capacity for healing and that it is through connection that this capacity grows and develops.
Trish believes it is essential to help organizations develop competence when facing suicide crises, which have ripple effects throughout families, schools, and communities – taking steps toward prevention and being able to respond rather than react are essential. As a consultant, she is a skillful listener who assists with getting to the heart of the matter, and collaborates on effective, practical steps for moving forward together.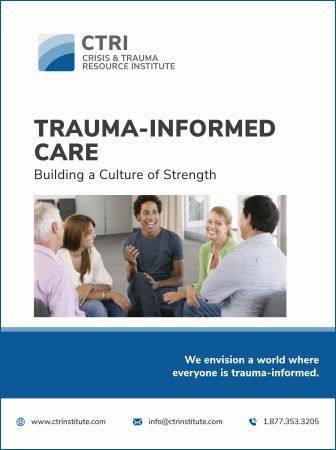 Receive Email Updates
Sign up for our Newsletter to receive your free e-manual