Live Webinars
Vicarious Trauma
Strategies for Resilience
This is a live virtual event using Zoom, an online meeting platform. Please check your system requirements prior to registering.
(
01:00 PM
-
02:00 PM
CDT
)
*(early rate expires 03/14/2023 )
Continuing Education
Credit Hours (CEC)
Register

Vicarious Trauma - Live Webinar - Mar. 28, 2028; 1pm-2pm Central Time
Early rate expires 03/14/2023

Attendee

1

Information

Helpers regularly encounter stories and symptoms of trauma in their roles. There is growing evidence that the impact of directly supporting others through experiences of trauma goes beyond burnout or fatigue. The toll of witnessing intense human experiences and emotions can contribute to a negative transformation of a helper's own sense of safety, and of being competent and purposeful. This webinar will provide participants with the opportunity to examine their own experiences and become aware of the signs of both vicarious trauma and vicarious growth.
Learning Objectives
At the end of this webinar, participants should be able to:
Describe the process of vicarious impact on a helper from working with others' trauma
Distinguish between the concepts of fatigue, secondary stress, vicarious trauma, and vicarious resilience
List four steps for healing and transforming vicarious impact into resilience
*Please allow only the registered individual(s) to view webinar materials
Target Audience
This is an introductory-intermediate level webinar intended for anyone interested in learning more about this topic.
Terms & Conditions
View our cancellation policy and other information regarding your webinar here.
Trainer: Monica Bhatara
MA
Monica has over 25 years of experience working in the community-based social services field as a Therapist and Community Educator. She is a Registered Therapeutic Counsellor, Certified Synergetic Play Therapist, and Focusing-Oriented Therapist. Monica has worked both in clinical settings for various programs and served in a leadership role as Director of Clinical Practice, providing her expertise to clinical and non-clinical programs that focus on family preservation and reunification, complex intergenerational trauma, trauma-informed practice, and clinical supervision. In addition to training with CTRI, she has a private counselling practice where she incorporates somatic work, play and expressive therapies, and interpersonal neurobiology in her work with children, youth, and adults. Monica believes in the power of human resiliency and the importance of building the capacity of paraprofessionals and non-clinical workers because they play a vital role on the therapy spectrum. As a trainer, she brings stimulating stories and a style that promotes engagement and facilitates learning.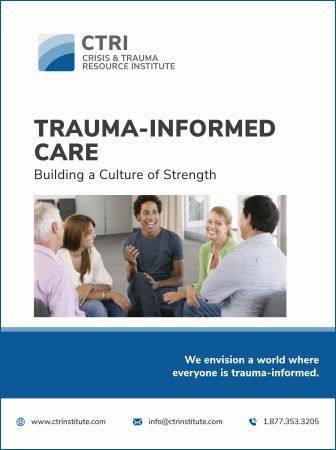 Receive Email Updates
Sign up for our Newsletter to receive your free e-manual