Private Training
Emergency Planning
1 or 2 day
About this Workshop
When organizations and communities are not ready to respond to an emergency, the consequences may include people getting hurt, damaged property, or the inability to provide essential services. At its core, the goal of emergency preparedness planning is to help organizations quickly restore the essential services they offer. This workshop will show participants how to create a proactive emergency response plan that will help minimize human and physical losses, and restore normal operations. A guide for how to organize effectively and quickly at a time of high stress so that groups are better prepared to respond is provided. Participants will leave the workshop with a better understanding of how to implement their own emergency preparedness plan and assemble an appropriate response team for their specific environment.
Inquire about Training
Target Audience
This is an introductory-intermediate level workshop intended for school personnel, community safety officers, managers, human resource professionals, and anyone seeking a better understanding of ways to respond to and prepare for emergencies.
Method of Delivery
Presentation, video, case study exercises, personal reflection, and small group discussions.
Learning Objectives
At the end of this workshop, participants should be able to:
Define the scope of an emergency preparedness plan
Describe ways to mitigate future disasters
Illustrate how to prepare themselves and their organization or community for a disaster
Apply the principles learned to their own environment
Topics Included
Assessing Threats – Natural and Human
The Emergency Management Plan
Forming an Emergency Management Team
Mitigating the Impact of Emergencies
Response Procedures During an Emergency
Preparing for Recovery
Creating an Emergency Preparedness Plan Binder
Length
Day 2 Option: Emergency Response Team and Plan Development Consultation. Our consultant can help your organization or community work to develop their customized team and plan. CTRI will develop a concise report of the work done and decisions made.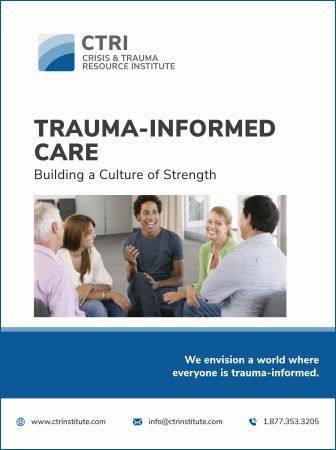 Receive Email Updates
Sign up for our Newsletter to receive your free e-manual